Searching for My Voice: A Cantor's Son Musical Reflections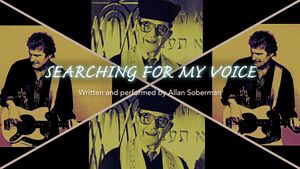 https://www.facebook.com/TheCJN/posts/searching-for-my-voice-a-cantors-son-musical-reflectionstorontos-beth-tzedec-con/4489026794447452/
Toronto's Beth Tzedec Congregation is hosting the world premiere of "Searching for My Voice," the one-person musical written and performed by 70-year-old singer Allan Soberman. The autobiographical show tells the heartfelt story of growing up as the son of beloved Cantor Morris Soberman and traces Allan Soberman's personal quest as a performer and music producer to find his own voice. 
The one-hour, 45-minute musical was several years in the making. Searching for My Voice was set to open last May, but pandemic measures caused a swift pivot to video, complete with archived family photographs and stories. The show premieres online on March 18. 
Cantor Morris Soberman's illustrious career as the ba'al koreh and hazzan sheini spanned more than 35 years. He influenced generations of Beth Tzedec members and taught over 2,800 bar and bat mitzvah students. 
"My dad started from day one at Beth Tzedec," said Soberman. "He was a Torah reader as soon as they opened the doors." 
In the early 1950s, Morris Soberman was working two jobs. During the week he was in the 'shmatte' business and on Saturday mornings, he read Torah at a downtown synagogue. 
"When I was 5 years old, that shul merged with a much bigger one, a huge new structure uptown called Beth Tzedec," said Soberman. "My mother convinced him to leave the factory 'shmatte' work behind and focus on the synagogue. It was life changing for my father. It took him out of the factory and into a suit and tie. Working as the assistant cantor brought him a new respect. His posture was different. He got to perform every week in front of the biggest 'machers', the heavy hitters in the community." 
Growing up as the cantor's son came with expectations. 
"I actually thought 'the cantor's son' was my name," said Soberman. "I didn't have the strength for it a lot of the time. I spent my early years trying to be invisible." 
Soberman is a born storyteller. In "Searching for My Voice", he captures the passage of time through a range of songs, performing 10 original song compositions. 
"The Hebrew tunes have original arrangements," Soberman said. "I find relief in music. I try to create something that touches me spiritually and emotionally." 
Cantor Soberman died in 1999. Allan found recordings of his father performing at wedding receptions and singing bar mitzvah portions. Shortly after, he made a tribute record, "A Dedication"(2000). 
"I Beach Boyed and Queened them up—Beach Boy and Queen have a bar mitzvah," he said. "It evolved into a concert of liturgical songs and the story of where everything fit." 
As a Toronto-based singer-songwriter and musician, Soberman started his career as a bassist with many of the folk acts around Toronto in the early to mid- 1970s. He accompanied people such as Grammy award-winners Dan Hill and Ben Mink, Bill Hughes, Canadian stalwarts Stringband, and others while touring Canada, the United States and Mexico. Soberman appeared as the opening act for Billy Crystal and Billy Joel. He released two singles in the early '80s under Boot Records which garnered widespread Canadian airplay. 
In Nashville, he co-wrote with veteran songwriters such as Dickey Lee (George Jones, Brenda Lee), Tommy Rocco (Anne Murray) and Casey Kelly (Tanya Tucker, Kenny Rogers). Soberman also worked with Juno award-winning children's entertainer Bob Schneider, performing on his records and appearing on TV specials. 
Soberman recorded two contemporary Hebrew prayer CD's, "Searching for My Voice" (2002) and the "Quest Continues" (2012) incorporating the melodies that he learned as a child, and making use of pop choral sensibilities that he was well-versed in. He maintained the intimate, soulful connection by singing all the vocal arrangements and playing all the instruments. A pop CD of his original material has also been released, "Hold Tight" (2007). 
Searching for My Voice will go live on March 18, visit: https://www.bethtzedecallaccess.org/searching-for-my-voice 
- SUSAN MINUK 
(Photo: Searching for My Voice: Allan Soberman and Cantor Morris Soberman)
"

The first thing that strikes me about this new album from Allan Soberman is the rich vocal harmonies, masterfully interwoven throughout each of the songs and performed entirely by Soberman. The vocal arrangements have a certain Beach Boy influence, to be sure, but there's a unique combination of choral and other elements that give these songs a unique stamp. Soberman is deft at exploring adult themes, like love slowly fading or how divorce effects children. Soberman is able to show us unique perspectives from the hearts of different characters who may all be just like us sometimes. Songs like "One Day at a Time" and "Parents Like Us" illustrate difficult emotions and choices we're sometimes forced to confront as time finds us coping with our past in the present and moving forward the best we can. Soberman reaches deep into his catalogue here -- many songs date back to the early and mid 80's, and I would say fans of 80's pop music such as Dan Hill, etc., and lovers of lush choral pop vocals will find much to like about Soberman's crafty and intelligent music." - Bryan Baker
— Discover Sounds Magazine
"

Searching for My Voice, Allan Soberman's new CD, is one selfcontained musician's quest to make contemporary meaning of the music he learned as a boy from his father Cantor Morris Soberman by layering familiar traditional Shabbat and Holiday tunes with combined overlays of vocal Doo Wop and M'shor'rim (traditional Jewish male chorus) textures. Add to this the talents of a one man rock band and the urgency of one Jewishman reconciling his present with his past and you have insistent music from a passionate, singular voice." Michael Isaacson" - Michael Isaacson
"

" Your sound is both familiar and different at the same time and it adds a whole new dimension to my show." Barry Reisman, Program host, WNWR AM 1540, Philadelphia, Pennsylvania" - Barry Reisman
— WNWR AM 1540 Philadelphia
"

For someone searching for his voice, Allan Soberman has a wealth of harmony. With a "Beach Boys in Jerusalem" sound, this CD takes traditional Jewish prayers from Soberman's childhood (his father was a cantor) and puts them in new arrangements, with soaring harmonies. A virtual one-man band, he sang all the vocal parts himself, and played all the instruments. The vocals blend beautifully, and the music works more often than not, though the formulaic drum loops detract from the vocals on several tracks, including "Nigunisht." Pushing the Jewish tradition in a new direction, this CD will appeal to fans of RebbeSoul and world music fans in general. Even folk and pop fans may be drawn in by its accessibility. ©2003 Scott Allan Stevens" - Allan Stevens
"

UNIQUE JUDAIC HARMONY author: jonaco If Brian Wilson were Jewish, he might have done a project like this. Allan Soberman, a Canadian folkie and studio singer whose father was a beloved Toronto cantor, took the traditional Jewish melodies his father taught to countless bar mitzvah kids and reinvented them in a Beach Boys/Phil Spector style. It works because Allan probably knew the service since infancy. His light, boyish voice isn't remarkable, but he overdubs vocal and guitar tracks in the classic Brian Wilson style to give these liturgical pieces an airy, ethereal flavor. Knowledgeable Judaica music fans (like myself) will enjoy Allan's unique and loving treatment of the Shabbat service- you can tell he grew up on it and did this from the heart." - Jonaco
— CD Baby
"

Allan Soberman: "Searching for My Voice" (self-distributed) Soberman is a Canadian musician, a cantor's son and a rocker. Inevitably he felt compelled to unite those two strands of his musical life in a CD on which he plays all the instruments and provides all the voices. As is usual in such one-person shows, there is a certain airless quality created by the multiple overdubs, particularly on the vocal tracks, which definitely could have used some other voices. Soberman straddles hard and soft rock modes fairly capably, though and the best cuts on this set — an Adon Olam with distinct echoes of the Hollies, a Billy Joelish "Nigunisht" — are very pleasant indeed. At its worst,thisoccasionally resembles an unlooked-for collaboration between the Beach Boys and Grand Funk Railroad. But I'd love to hear Soberman do an album like this with a full band and other singers; there is definitelysomething here. (Available from www.sobermanmusic.com). AAAA" - George Robinson
— The Jewish Week-New York
"

It may have taken him a few decades, but veteran musician Allan Soberman has finally gotten around to recording a collection of his own songs. His indie release Hold Tight is actually not his his first CD. In 2001, after the death of his father, Morris, cantor of Beth Tzedec Congregation for more than 35 years, Soberman created A Dedication, a tribute to his father that included his father's traditional songs and prayers. Shortly after, he released Searching for My Voice, in which he combined the music his father loved — traditional Jewish music — with the popular music he loved. "I just started to record Shalom Aleichem and then went crazy with it," Soberman, 57, says. "I did Adon Olam on a 1 2-string guitar and just continued doing it. It's like [Pink] Floyd meets Lubavitch, or as someone described it, Beach Boys with a yarmulke." Now, Soberman has released Hold Tight, a collection of 12 original retro-sounding pop- rock songs that reminds me of the Travelling Wilburys, the Byrds and Tom Petty. Soberman admits that his songs are rooted in late '60s, '70s influences. "I love jingle-jangle bands [the Byrds] and songs with harmonies like the Beach Boys." Some of the songs on this album have been sitting around since the early '80s, though they've all been newly recorded. The songs have strong harmonies and are radio friendly, with strong, catchy hooks. The choruses on songs like I Want to Run, Still a Part of Me and Just Another Night tend to stay in your head for hours. " - Joe Serge
— By JOSEPH SERGE Arts Editor,Canadian Jewish News
"

Allan Soberman - Searching for my Voice Allan Soberman's Searching for my Voice was released in 2002 and is a collection of prayers/religious songs in a modern setting. Soberman is a singer-songwriter and musician based in Toronto, Canada, with an admirable track record. The son of a chazan, or cantor, Allan Soberman in Searching for my Voice is seeking to reconcile two musical lives. On the one hand, that of his Jewish upbringing and the prayers and religious songs that have always been with him, and on the other, that of the pop/rock and folk music of the 1950s and 60s that also form a large part of his musical "baggage". A difficult and ambitious quest, without doubt. To retain complete control over all aspects of this project, Allan Soberman not only arranged all the traditional melodies himself, adding also one original composition, Nigunisht, but also played all the instruments and sang all the vocals on Searching for my Voice himself. The result? Well, I have to confess when it comes to Jewish religious music, my tastes generally tend to be rather conservative. But Allan Soberman's Searching for my Voice somehow grabbed me from the first bar or two and soon completely won me over! The predominant influences from the "modern" world of the popular music of the 1950s and 60s is clearly that of Brian Wilson and The Beach Boys, as well as electro-folk, but mostly, Beach Boys. There's almost a feeling of deja-vu, especially in the often Beach Boys-like vocal harmonies, to Allan Soberman's Searching for my Voice. It's kind of The Beach Boys updated to the 21st century. Quite amazing and wonderful. And all this blends somehow perfectly naturally with the traditional Jewish elements. Indeed, the mix is an addictive one and a very powerful one too. Never have you heard the Sabbath prayer, Shalom Aleichem, quite like this! Far from seeing the power of this prayer and the others too, diminished, it seems enhanced and given a completely new life. Allan Soberman's quest certainly has been a successful one. Whether the search for his voice has been a successful one though, only he can answer and time will tell. Even if "modern" religious music is not really for you, I would still suggest you keep an open mind and give this album a listen. It is deeply touching, spiritually moving and inspiring. Allan Soberman's Searching for my Voice is inspired, a powerful fusion of the ancient and the modern. It is an essential addition to any collection of contemporary Jewish music, religious or otherwise. Not out of place in any general world music collection, either, to be sure. More please, Mr. Soberman! © 2004 Rainlore's World of Music/Rainlore. All rights reserved."
— Rainlore